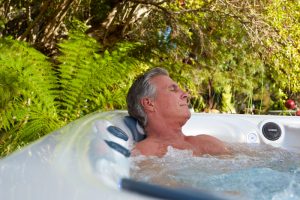 There are a number of reasons why you might decide to install a hot tub in your home. Not only is it ideal to relax and unwind in when you have had a long and busy day, but it is also great if you want to spend some time with your family and friends.
Not only this, but a hot tub is ideal if you are looking to spend a bit of time on yourself. We all could benefit from some me time in our busy lives, so, being able to get away from it all and soak away your troubles, well that could be enough to tempt you into treating yourself to a hot tub.
So, why is me time so important? Why should you be planning in a chance to get away from it all?
Sitting in a hot tub clears your head
Information is always coming at us, each and every day. Sometimes we can process it with ease, but sometimes it builds up and up and we feel that we are in total overload. When you get home from work and you feel that your brain could pop, then perhaps just what you need is to open your hot tub cover and jump in. Sitting there means that you can empty out all those thoughts and instead just enjoy not having anything to think about.
You leave the tech behind
Tech and water don't always go well together and whilst there are more and more waterproof smart phones out there, this doesn't always mean that we trust the idea of them being able to withstand water. When you are in the hot tub, chances are that you are going to want to leave your phone behind, which means that you can have a bit of time away from tech.
Your body will feel more relaxed
Whilst a hot tub is going to help you to unwind your mind, it also helps you to unwind your body too. Tired and aching muscles are going to feel oh so better when you sink into the warm water. Which is great if you have had a busy day and have been left feeling drained.
You can share it, if you want to
Of course, being alone in a hot tub is a great feeling, but sometimes you are going to want to share it with someone else. Hot tubs are the ideal social addition to your home. You and your partner can make time for one another, your family can all dive in together and, if you fancy it, you can even invite some friends over too. It really is down to whether or not you are happy to share your special space!
There are so many benefits to having a hot tub, being able to spend time alone with your thoughts is just one of them. So, why not think about installing one in your home? We can promise you it might just be the best thing that you ever do.