Submerge Yourself…
in luxury and create a a new lifestyle…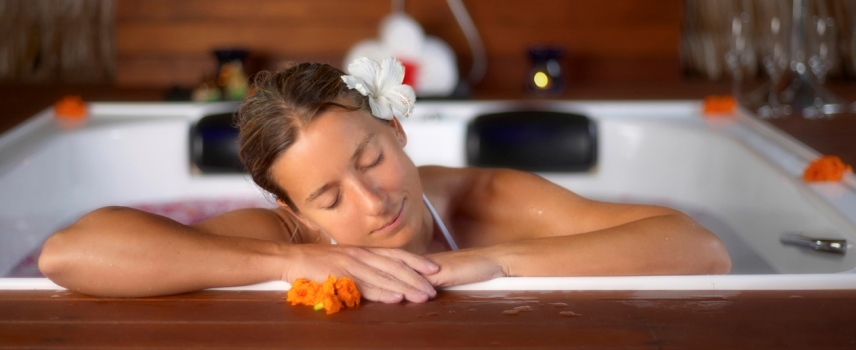 A Shoreline Hydrotherapy™ hot tub is an investment in a new lifestyle filled with peace and memories. Whether it's a mind calming end to a stress full day or spending quality time with your family and friends, your quality of life will increase.
Improve your health and happiness from the therapeutic benefits of warm, hydrotherapeutic streams of water.  We invite you to discover for yourself the many advantages of hot tub ownership and the incomparable quality of a Shoreline Hydrotherapy™ hot tub.
Pamper Youself…
as your cares fadeaway…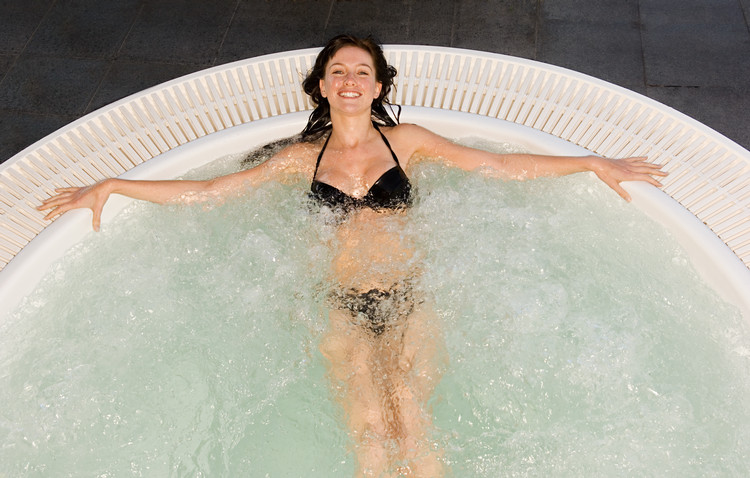 Just imagine your entire body totally submersed in a warm, soothing oasis.
The weight of the world is lifted from your body.  Your mind is at peace and the stress has gone. Your blood vessels dilate to bring oxygenated and nutrient enriched blood to your tired, aching muscles and joints. You are totally relaxed and nothing can compare with the tranquillity you will feel in your Shoreline Hydrotherapy™ hot tub.
Surround Yourself…
with quality from a company that has been an Innovator in Hydrotherapy…

The hot tub may seem like a relatively new concept, but the remarkable effects of Hydrotherapy can be traced back to the ancient Romans and Greeks who cleverly exploited the natural springs beneath the ground for social and health benefits. Today people are enjoying the benefits of Hydrotherapy from a Hot Tub in much the same way – and some may certainly surprise you.
The Physical Benefits…
Stress is surely the scourge of our modern, hectic lives. Hydrotherapy can help to ease and alleviate the worst effects of stress which, if neglected, can lead to a number of issues; anxiety, depression and insomnia are just some of the problems that can be generated by stress.
A Shoreline Hydrotherapy™ hot tub, with its detoxing effects, can also help to strengthen your immune system and with its ability to regulate your body's temperature and improve the performance of your perspiration glands, which expel toxins, users can expect a better complexion.
A Shoreline Hydrotherapy™ hot tub with the unique Hydropro™ hydrotherapy jets, which mix more air into the water to form tiny micro bubbles that give a deeper tissue massage (compared with any other jet on the market) is also an excellent method for improving circulation as it improves blood flow and oxygenation. This, in turn, can help with such related problems as hypertension, high blood pressure, and hardening of the arteries. Furthermore, it is this ability to improve circulation that can also aid recovery from injury, which is why hydrotherapy is a popular form of therapy in the sporting industry.
The Social Benefits…
These are just some of the benefits for your body, but it is important to remember the link between body and mind. Have you considered, as the ancient Greeks and Romans did, the social benefits? Why not throw the perfect Hot Tub party for friends? Or bring the family and let them also enjoy the myriad health benefits as you discuss what is new in your life.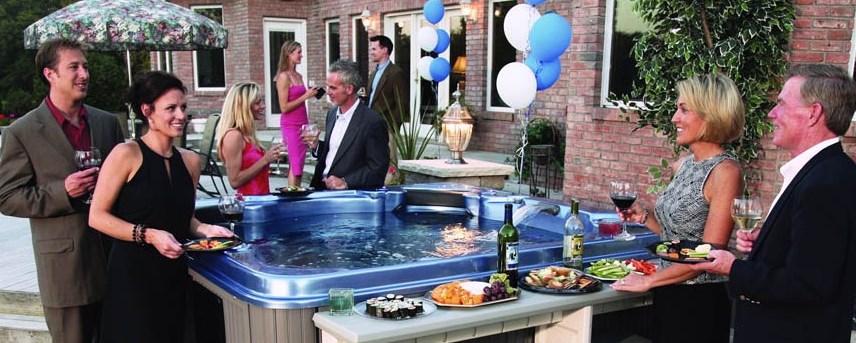 Share Intimate Moments…
Finally let us not neglect Romance. Slip into a Hot Tub with your beloved and instead of discussing the day's tedious events in the car on the journey home or at the dinner table, or even in front of the television, allow the effects of the Hot Tub to spirit away your problems and your woes in a more organic way. Indulge your beloved with candles, music (with our optional built in CD players) and a glass of wine. You never know, it could be the start of something even more beautiful.