Energy Efficient Hot Tubs – 'Investing in Our Environment'
Shoreline™ hot tubs are the only true Green Hot Tubs. Shoreline Hydrotherapy® work tirelessly in a modern purpose built factory developing their hot tubs so that they are robust, easy to maintain and as energy efficient as possible.
The entire Shoreline™ hot tub range is fitted with the revolutionary ShoreSeal Insulation™ system which incorporates ReHeat™ energy recycling technology. When energy consumption is compared on a like-for-like basis with any other quality hot tub of similar size/specification, a Shoreline™ hot tub will be in front.
If you add the optional ShoreHeat™ integrated air source heat pump to your Shoreline™ hot tub, then there is simply no competition at all. At present, there is not a like-for-like, similarly specified hot tub manufactured anywhere in the world that will use less energy.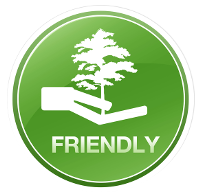 The Effective 3 Part Insulation System in Shoreline™ Hot Tubs
The ShoreSeal™ energy saver heat recovery system does not impair the serviceability of the hot tub components or jets at in any way.
The ShoreSeal™ system is a three-part system that has been specifically designed to significantly reduce heat loss, by preventing heat loss to the outside air and recycling the heat back into the water and therefore significantly reducing energy consumption.
The ShoreSeal™ system is designed for the extreme temperatures of the Northern states of the US and Canada.
PART I
The ShoreSeal™ system relies on 3 layers of insulation – a fully insulated heat reflective cabinet and base to eliminate air infiltration, thick polyethlyene insulation slabs behind the cabinet along with a thick layer of polyurethane foam applied to the shell.. The ambient air between these layers of insulation forms a high insulation barrier to maintain hot tub water temperature. (Most other manufacturers do not insulate all sides of their hot tub, particularly behind the equipment panel let alone preventing air infiltration from outside air. In this area on other manufactured hot tubs, every drop of water within the hot tub flows through an area with zero insulation.)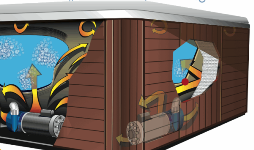 PART II
Heat produced by the hot tubs mechanical equipment is not vented away in Shoreline™ hot tubs. It is trapped and re-used. This is called Re-Heat™. As the water moves through the pipes toward the jet it draws air in with it. This is known as a "venturi" action. Most hot tubs have "venturis" but draw in outside cold air. Shoreline™ hot tubs don't! In Shoreline™ hot tubs the air is taken from the pocket created by the thermal barrier insulation. Warm air is recycled through the well-secured hot tub water pipes and entered back into the hot tub by the Hydropro™ jets to maintain water temperature – saving energy and saving you money!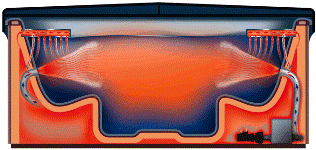 PART III
Heatlok™ 523 hot tub cover. One of the most efficient, sturdy and safest hot tub covers on the market. 85% of all heat lost is through convection. For Re-Heat™ to work effectively, the equipment fitted in all Shoreline™ hot tubs including the pumps, ozonators, heaters, audio equipment and controls are of a standard and quality that can operate for years at much higher temperatures, compared with other hot tub equipment fitted in other manufactured tubs. The main reason why most manufacturers don't insulate the equipment panel is their equipment needs to be air cooled, and cannot operate at high temperatures without premature failure.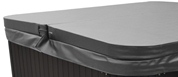 Carbon Offsetting* On Shoreline™ Hot Tubs
You may feel that owning a hot tub is decadent, but it is important for us all to relax and re-charge, especially in these stressful times we are living in.
You may also feel that you don't think you can relax in a hot tub due to the thought of the frivolous use of energy and the effect it may have on our environment.
There is no need to feel like this any longer. Shoreline Hydrotherapy® is the only hot tub manufacturer to offer to offset the Carbon Footprint for the manufacture of your Shoreline™ hot tub. Shoreline Hydrotherapy® will supply a Certificate (*at an additional cost), when requested from an independent registered carbon offsetting company with any Shoreline™ hot tub purchased.
Shoreline™ hot tubs have elected the money invested in our environment will go towards the planting of trees in the National Forest, other UK projects and some selected overseas projects.
Contact our leading Energy Efficient Hot Tub specialists
For further information about our fantastic range of energy efficient hot tubs, or to order from our collection, please don't hesitate to get in touch with our friendly and dedicated advisors, who will be happy to help in any way they can.