Just a few reviews from our many happy Hot Tub customers…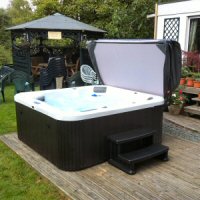 Mr & Mrs Brown, Leics.
We would like to take this opportunity to write and thank you after the delivery of our latest hot tub. As you know this is the third hot tub we have purchased from you. Our first being eighteen years ago! We still can't believe where the time has gone! Once again thank you. You have all been a pleasure to deal with and we look forward to many more years of hot tubbing!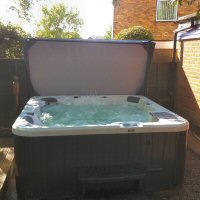 Rob & Andy, Derbys.
We knew we should have ordered the larger tub last time! Now we have finally moved into our new home and just had the new big tub delivered yesterday and its heaven. Thanks for the great service.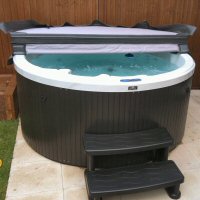 Ian & Mandy, Northants.
We can hardly remember life without a hot tub. It did not start well though for us, did it? The first hot tub we bought kept breaking down. Then the company we bought it from went out of business. Then we found you. You came out on numerous occasions to repair the damned thing. It was almost a relief when it finally split and we could throw it away. Had it not been for the water going in the pond and killing the fish we may have even celebrated its demise. We didn't give up did we? We took delivery of our first hot tub from you on Friday March the 12th 1993 and its run and run and run (damned thing wouldn't die)! Until we finally decided retire it and have a new one. There was only one place we were going to go to. Thank you for the wonderful service you have given us over the years and we sincerely wish you all the best in the future.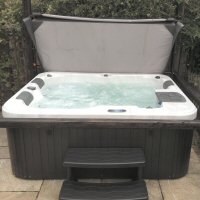 Alison, Notts.
We had our spa delivered 6 months ago and we have thoroughly enjoyed it without any issues until last Monday and once again I would like to thank you for sorting out the problem with the light so promptly. It wasn't urgent but you sent an engineer out the following day I telephoned. I was quite taken aback by your efficiency, especially from recent experiences. Your engineer was so courteous; he is a credit to the company. Our friends recommended you and we will definitely be recommending The Hot Tub Company to everybody. Thanks.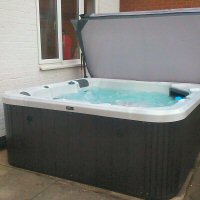 Famke & Julie, Cornwall.
We would like to thank you for all the trouble you have gone to on our behalf. As you will now know we are committed "hot tubers". We have had our tub at home now for eight years and it's still going strong and looking good. When we decided we wanted a hot tub for our holiday cottage in Devon, there could only be one Company to do it! You arranged the crane and the scaffolding and it all went so effortlessly. We still can't believe it, we were panicking that something was going to go wrong but no chance when the HTC is in the game. The scaffolders came and built the bridge Wednesday afternoon, your guys and the crane both arrived on time noon Thursday and within the hour our tub was in place. Unbelievable! What were we worrying about, I now have no idea! The view is amazing and well worth the extra trouble! I understand our neighboughs have now ordered from you. Excellent service and telling everyone!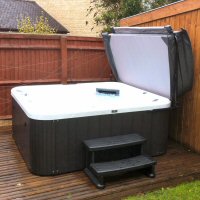 Mr & Mrs Foster, Warks.
We want to thank you for your service over the years. You built our swimming pool for us in 1990 and I believe it was the first pool your Company had undertaken. I must admit we were a little nervous prior to the commencement of works but we chose you because you seemed like a nice chap and you also seemed to know what you were talking about. The pool was and is brilliant and we still can't believe from start of works to adding water in only three weeks and you kept the area spotless throughout the build. We built the pool for our children and grandchildren we now have a great grandchild on the way. We have now taken delivery of our first hot tub, after over twenty years of you telling us how good they are. You were right, why did we wait so long? Thank you and all the best for the next 20 years.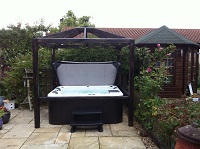 Bob & Tracey, Norfolk
We have had our Amalfi hot tub for 6 months now and we absolutely love it.  It is the best thing we have ever bought. Your service has been exemplary from the sales to the fitting and you're after service has been first class.   We have recommended you to all our friends.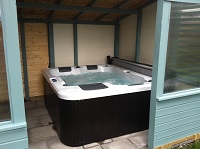 Mr & Mrs Hale, Leicester
Thank you for the excellent service you have given us.  Our hot tub is fantastic, we use it every night without fail.  10/10 for service.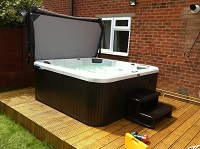 Sandy & David, Plymouth
We were very sceptical about buying another hot tub after our bad experience with cheap hot tub.  Our only regret now is we didn't buy from you in the first place.  Everyone was helpful and polite and nothing has been too much trouble, old fashioned customer service!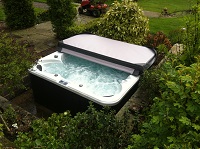 Sean & Julie, Hull
Many thanks for your great service.  Your installation team were very courteous and helpful.  Our Valencia spa is the best purchase we have made in years. Loving the star gazing!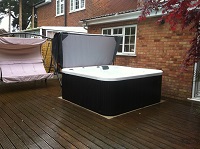 Debbie, Wales
Thank you for your efficient service. Can't wait until this evening when I can relax with a bottle of prosecco.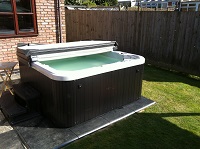 Paul, Evesham
Many thanks for your superb service.  The delivery guys were helpful really informative.  Your showroom team were very relaxed with no pressure and you are the only company who did not run down other hot tub companies.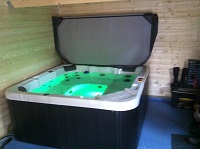 Guy & Laura, Sussex
An amazing hot tub with great service.  We set the alarm for 5am and went to bed on the first day and enjoyed the first of many luxurious soaks.  We have told all our friends where to buy a hot tub from.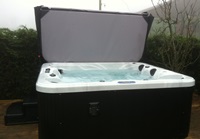 Jo, Lincs.
Just a short note to say a massive thank you for all the help & advice I received when choosing my hot tub. I felt I was making an informed decision as I was able to actually test each hot tub for my individual needs. I would like to say a big thank you to your incredible installation team who arrived on time despite the thick fog.  They were very thorough, professional and friendly, an absolute credit to your company.  This is the first time I have owned a hot tub, your installation team explained everything in a very clear & simple way, giving me complete peace of mind. I just love my hot tub & am feeling the health benefits already.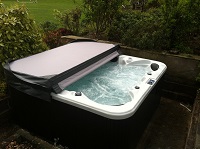 Kayley, Manchester
Wow! 25 years in business and I can vouch for the service you offer.  Without a doubt this has been my best experience I have ever had with a major purchase.  After months of looking at your competitors where every company is selling "the best hot tub ever" and running everybody else down, which is completely unprofessional and extremely irritating to hear, I decided to order my Barcelona hot tub from The Hot Tub Company.  We agreed on a delivery date, you delivered on agreed date, your team telephoned en route with a delivery time, they were very polite and helpful and nothing  was too much trouble, in fact they bent over backwards to appease me (as I am quite finicky!). They even took our old Sundance hot tub away.   My hot tub is better built, is more powerful, has more features and was £3000 cheaper than the Sundance, Jacuzzi and Hotspring models we tried out.  I have now enjoyed just over a year of trouble free use and your engineer has just carried out its first annual service which has prompted me to write this note.  Please do not change the way you operate, it really has been a refreshing experience to deal with a company that has traditional values and does what they say it will do, when they say they will do it and for the agreed cost.  Long may you prosper and I wish you every success in the future.